Syntax
PAUSE
Explanation
PAUSE temporarily halts the execution of a procedure. PAUSE makes it possible to add commands to an ongoing procedure or check the execution of a procedure. It is also possible to enter the editor while in a pause to change the procedure.
When Logo pauses, it prints PAUSE and the prompt changes to the word PAUSE followed by a greater than sign (PAUSE >). The value of the PAUSE prompt is stored in the system variable name :PAUSE and can be changed.
To resume execution for the procedure, type CO or CONTINUE. To return to toplevel, type TOPLEVEL or Control-G.
PAUSE may be used only within a procedure. To pause a procedure that is running at toplevel, use Control-Z.
Example
TO SQUARE
DRAW
FORWARD 60
RT 90
PAUSE
REPEAT 3 [FD 60 RT 90]
END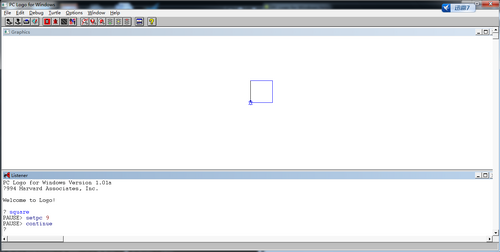 ? SQUARE
PAUSE> SETPC 9
PAUSE> CONTINUE
?